Looking for a Pasadena banquet hall that does it all? At Geragos Banquet Hall, our highly trained staff specializes in a variety of menus. We offer:
International Catering
Middle Eastern Catering
Armenian Catering
Mexican and Latin American Catering
The menus are extensive and the rates are fit to suit all kinds of budgets. Schedule taste testing for all food and beverage that will be served. We will gladly arrange any special dietary requirements for people attending the event.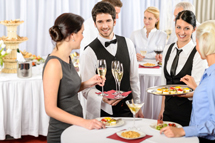 We'll work with you on every detail. With our vast experience in helping plan weddings and various other events, we are ready to help with any celebration you have in mind. From engagement parties and showers leading up to the wedding, to the actual wedding rehearsal, ceremony, and reception, we've done it all.