Geragos Hall is one of the preeminent wedding venues located in the heart of Pasadena, California. We welcome you to stop by and take a look at the newly renovated Geragos Hall!
Tastefully decorated to blend with your individual color scheme. Whether it be a wedding, engagement, baptism or formal dinner party, Geragos Hall is the perfect banquets hall in Pasadena for your special event.
Geragos Hall is very spacious and plenty of room between tables for your guests (and venue staff) to easily navigate through the room.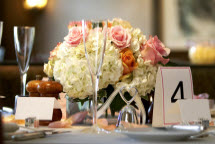 In the adjacent building next door is a smaller banquet hall with a separate entrance. This is especially convenient if you are looking to host two events simultaneously. During your business functions, you can have two different lectures and gatherings going on concurrently.
The professional kitchen has been used to shoot commercials and has been featured on a cooking show. The kitchen is equipped with high end cooking and refrigeration appliances. Our prep area is current with all health code requirements for all preparation operations and food storage.
Detailed attention has been devoted to all facets of the hall. With two halls to choose from, you have the choice of choosing the appropriate size needed for the event.  Unlike many other venues, we will make sure that our staff is ready to serve for the full duration of the event.
We can set up the seating arrangement in both Reception or Banquet styles.
Full Audio/Visual equipment is available for your use, you can choose to use them for entertainment and speakers.
Call us today at (626) 578-9341 to make an appointment to view the halls.